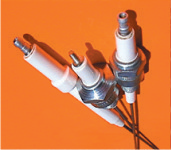 In its general manufacturing programme, Sinterom also produces, of over fifty years, ignition electrodes with ceramic insulators, having as destination both industrial thermoenergetic equipments and household appliance.
Beside their basic use, namely spark ignition of gaseous or sprayed liquid fuel mixtures in the burners of thermo energetic equipments or of gas cooking machines, they still have the following uses:
– detection of the concentration levels of some gases;
– sensoring and controlling the liquid levels of some gases;
– flame detectors.
On their constructive solutions, the ignition electrodes are classified in two basic categories::
– ignition electrodes with a single sparking electrodes (the second one belongs to the fitting equipment or could work together with another similar one);
– ignition electrodes with two sparking electrodes.
Contact:
SC SINTEROM SA
Cluj-Napoca: 12 Muncii Blvd.
Cluj County
Phone: +40264.415.086
Fax: +40264.456.158
sinterom@sinterom.ro
secretariat@sinterom.ro
marketing@sinterom.ro